Can't believe it's Friday again, …. I think I blinked and the week disappeared… we started school again after our short summer break, we went shopping, I knitted some scarves, went visiting, did no sewing…. and then suddenly it was Friday again…!
Oh, I forgot! I did get Emmie G oiled and ready to go… then loaded a long wide bit of white backing and quilted the tumbler: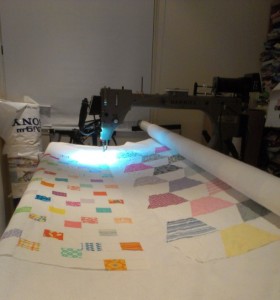 I popped Wiggly Whimsy underneath ready to quilt the next day, and somehow never got back to it… next week hopefully.
Since today is my "day of rest", I got out some more scraps and used the Go to cut some more: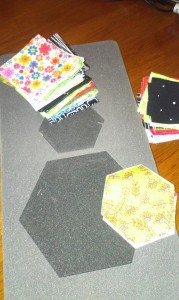 Not so sure it was restful…. but oh well… then I decided I had procrastinated the next SAL project long enough during the week and started sewing the squares together for the front. I had 2″ squares on my mind, so the four patches were a bit big and needed trimming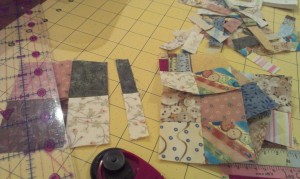 And now it is bedtime… so  I shall say goodnight and see if I can get some more of the bag done tomorrow…. I have been procrastinating since I am scared of the zip or the round shape or both…. hopefully now that I have made a start it will motivate me to keep going…